With summer here, it's only natural to start daydreaming about your upcoming vacation… and consequently, your summer wardrobe. Even if it's been a Covid19 "IsolationVacation"… there is no reason to ditch style. Summer vacation is, after all, the logical conclusion of the "working for the weekend" mentality that many share and since many of us have been working from home, we are itching to get out and about.
Summer means most people tend to anticipate the arrival of nice, warm weather and trips to the beach. If you spent the last couple of years Marie Kondo-ing your closet, you now have space to store your winter clothing (remember to store it cleanly and with cedar or lavender!) so that you can focus on warm weather bits. Summertime brings with it an opportunity to change up your closet space by bringing out summer wardrobe favorites. However, if you want to really turn up the heat and try something new, here are some ways that you can elevate your style this summer, without feeling like you need a whole new wardrobe. 
New Summer Wardrobe Accessories
Accessories can often seal the deal when putting together a new look. They offer a slight touch that can course correct a sub par outfit or transform a good look into a great one. With summer outfits featuring less clothing overall, there's no better time than to add a flourish to an outfit with an accessory. Men's watches can greatly improve a look by adding some sophistication to your shorts and tee shirt combo, for example, and adding a touch of gold to a swimsuit with a pair of earrings  and fabulous sunglasses can create a truly striking look out of what would normally sacrifice fashion for comfort. 
Invest in Sophisticated Casual Clothing
As alluded to above, summertime looks often feature the "lazy" option of a tee shirt and shorts, because those items are easy to move around in, don't require a lot of thought, and offer a lot of skin exposure. Essentially, summertime clothing is designed to help keep you feeling cool and free, and many summer clothing designs prioritize the function over the form. However, there are ways in which you can inject a bit of style into these casual favorites, or even avoid them entirely.
For starters, patterns are everything. Certain patterns can offer a look of sophistication that one tends to see applied to elegant dresses. Just because it's appropriate for fine dining doesn't mean that you can't apply it to casual clothing, and doing so can really transform a beach look. Look for high end seeming florals, houndstooth, nautical stripes and even polka dots if paired and accessorized properly.
Overhaul Your Bathing Suit
The bathing suit is a staple of summer fashion, as it features at beach get-togethers almost universally. However, again, many designers of swimming trunks and bikinis don't really prioritize aesthetics, instead offering affordable, utilitarian garb for people who wish to go swimming. Like casual clothing, these offerings tend to be overly sporty or without style, and they could do with some gussying up.
Consider rethinking the cut options. A high end suit is a good investment and there are brands that really create fabulous swimwear.  Something more simple or more elegant is always an option and would do well to provide a contrast with other beach goers.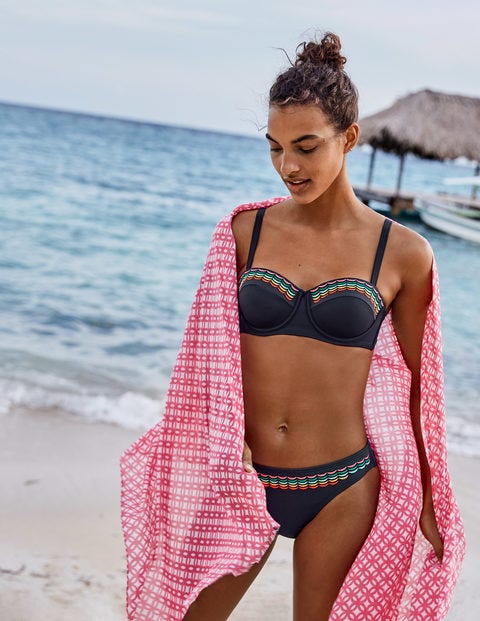 Consider Tattoos
Tattoos have long been a hot button issue, but the there is no question that having ink makes you look more badass. If that's your style, don't be afraid to flaunt them. Tattoos are generally much more accepted by society at large than they were a couple of decades ago. A common practice with tattoos is to get them in a spot that is easy and natural to cover up for the sake of more formal occasions, or even holding certain jobs. Therefore, it stands to reason that a tattoo can be both easily hidden when the need arises and on full display at the owner's whim, which makes a tattoo potentially a prominent part of your summer look. Just remember to care for them and not overdo it with sun exposure. The point is… do you. 
Summertime is often associated with freedom, and is a time where recreation is prioritized for many. That's why summer clothing styles similarly prioritize ease of movement, however, often at the expense of style. It doesn't need to be that way.  If it's important to you to keep your glam on, these techniques are just a few of the ways that you can turn a summer look into a summer style. With these tips in mind, you're prepared to blow people out of the water this summer.
Cover Photo by Sonnie Hiles