From a distance, it seems like a fairyland. From our imagination, it seems like a dream. New York City is the birthplace and stomping grounds of American imagination. Its shimmering skyscrapers that wink electric stars at dusk make us remember that New York was a fantasy-turned-reality built by the forward-thinking mastery of millions. A stroll within Time Square makes us realize that New York is not just a castle in air, but a fishbowl for creatives, outcasts, freaks, and adventurers.
I recently decided to traverse through this concrete jungle with a long-time friend of mine. You see, I had only tasted New York in the buttered down versions of it found in film and music. I wanted to experience New York beyond Hollywood glamour. I wanted to experience the real thing.
However, because of our conflicting schedules, our New York experience was condensed into little more than twelve hours. However, with an obscene need to devour the impossible, we took on the challenge to see if it was really possible to see all of New York City in less than 12 hours.
Setting out Sunday morning, craving for a lion's share of adventure, we had no idea that only a series of misadventures laid ahead of us. We decided to rent a car from Montreal and make the seven-hour drive to New York City in hopes of saving a dollar or two.
Nevertheless, our trip began with a hiccup, with our rental car wheezing and coughing as if it was on its deathbed only an hour into the trip. We had to keep under 50 miles per hour, or our car would begin making noises that likened it to a mechanical exorcism.
We were still on time when we reached the border, but one look at my friend's Pakistani passport was enough for customs to detain us for little under 2 hours. We were forced to jump through the hoops of standard federal bureaucracy and even had to pay a fee for their services. My sunny disposition at the start of the morning had now dampened to a cool sunset; however, we decided that a few mishaps were common on any road trip and decided to keep moving forward–as one should do with anything that happens in life.
The drive from Montreal to New York City was absolutely breathtaking, with our routes snaking through the Edenic northern paradise of the Adirondacks and upstate countryside. Amidst the snow-capped mountainscape and pine tree valleys, we were almost tempted to end our trip in the wilds of New York.
However, the desire to feel like a Hollywood protagonist enveloped by twinkling towers was too great. After travelling many routes and reroutes and with both Ibrahim, Siri, and I utterly exhausted, we arrived in New York City after twelve hours.
A Stay at New York's Overlook: The Pennsylvania Hotel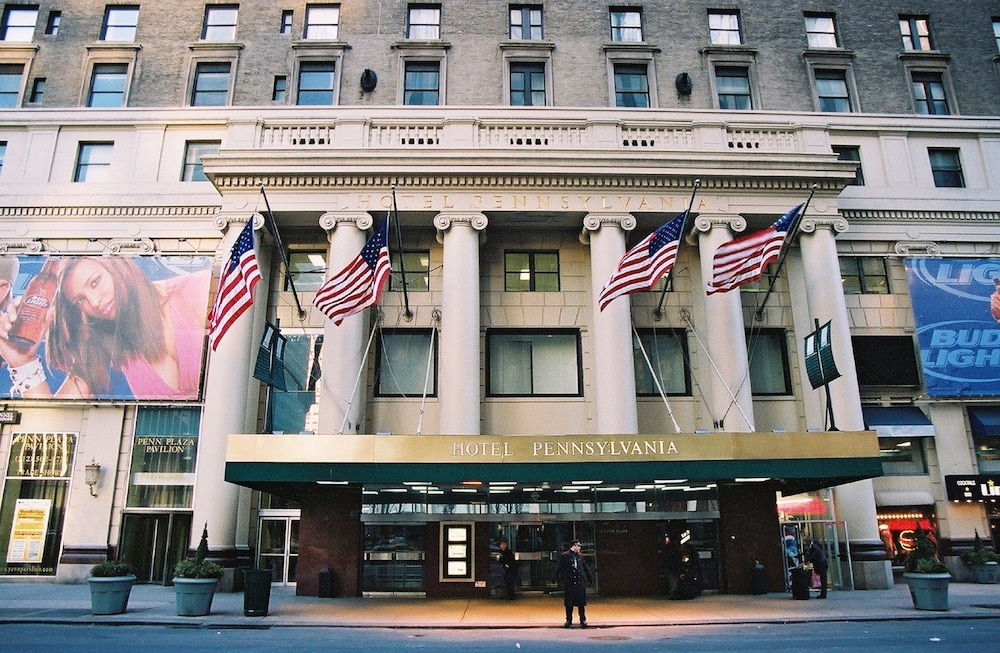 More fatigued than starstruck by this electric city, we decided that it was a bit too late for tourist attractions and went directly to our lodging for the night: The Pennsylvania Hotel. With its early 20th-century architectural chic and its happening location across from Penn Station and Madison Square Garden, the Pennsylvania seemed like an economic but quality lodging, sifting between the limbo of two or three stars.
Be that as it may, a quick revolution through its spinning doors revealed to us that it did not deserve even a point on a single star. From its doors that likened itself to the emergency exits of a hospital to the vomit-stained carpets and grimy tile floors, this hotel would have worked perfectly as the set for Stanley Kubrick's The Shining. We found better customer service at the gas station in Albany than at the Pennsylvania. Not only did we have to wait for two hours to be checked in, but Ibrahim's card was eaten by one of their ATM machines.
While our room was as decent as a Motel 6 abortion goes, we found the fire alarm letting out painful shreeks that were nearly unbearable for two mentally and physically exhausted tourists. After pleading for some sort of service from the front desk, a friendly repairman finally came to our aid. After much trial and turmoil, we decided to retire with a stack of McDonald's french fries and cat videos at 4 AM.
If you do decide to visit New York, be sure to pick a motel or hotel outside of the city, preferably in the adjoining New Jersey suburbs. Not only will you find better deals, but you will be away from the hustle and bustle of NYC's urban rat-race, allowing for relaxation and rejuvenation.
If you find you want to relive the horrors of Stephen King's renowned The Shining with a stay at the Pennsylvania Hotel, remember that it will take approximately two hours to check in. Moreover, do not pay for their 'valet' service. It is a complete rip-off in its mediocrity, becoming more of a hassle than a convenience. Besides, a parking garage can be found near the hotel at the One Pennsylvania Plaza at Icon Parking.
An Empire Waiting Game
Awaking to the springtime sounds of chirping taxis and screeching tires, we decided to pay tribute with what little money we had in our pockets to the staple of New York sightseeing: the Empire State Building.
Built in 1931, this 102-story Art Deco masterpiece reigned supreme over metropolises throughout the world, being the tallest building for forty years. The building towers over the city like a blinking pinpoint, a symbolic reminder for when creativity championed practicality for the first time in North America. This 443 meter-building works as a trophy that natives and tourists marvel at.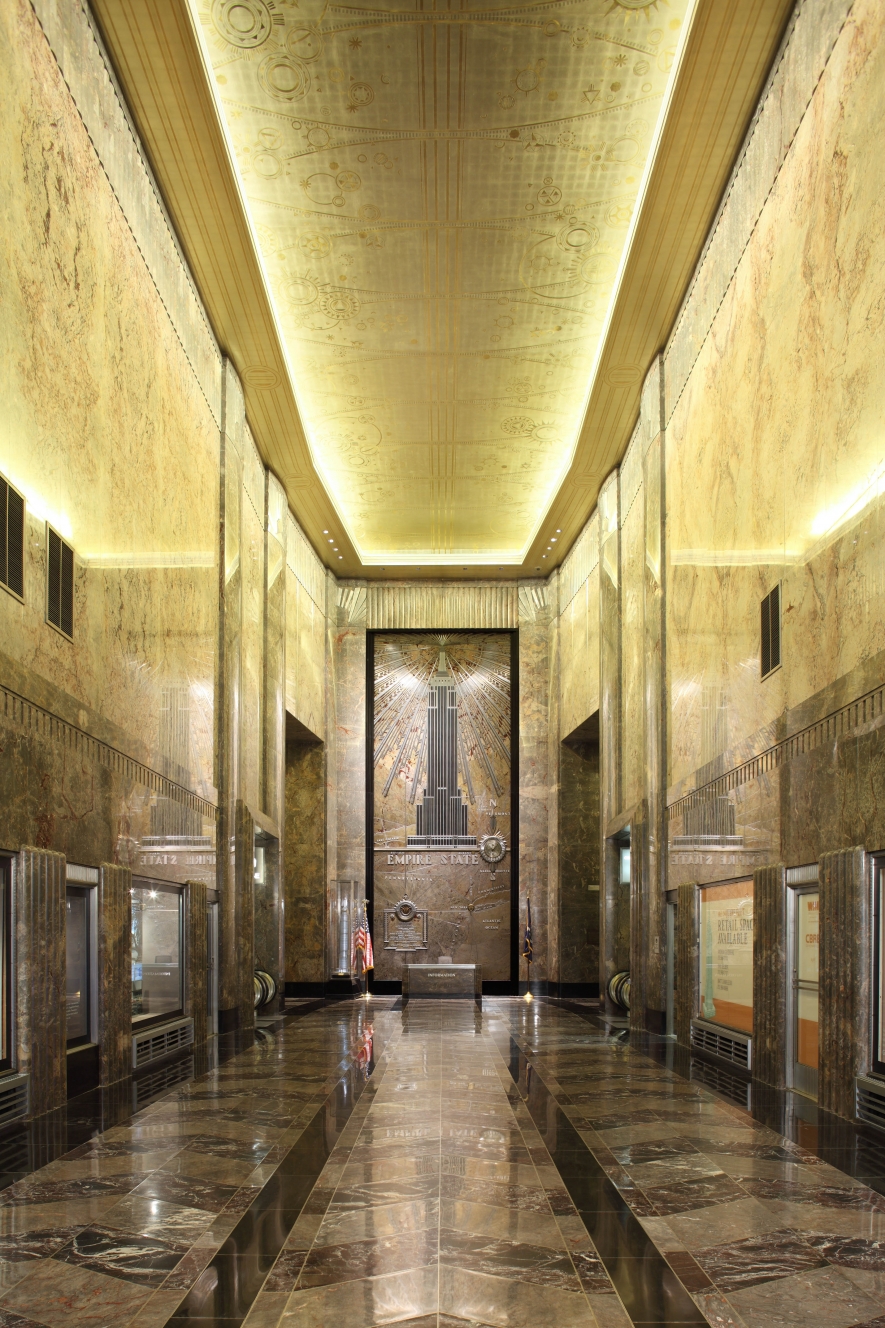 Nevertheless, the standard tour of the Empire State Building is far removed from its glamourous exterior. With long lines, stagnant air, and high prices, it seemed like more of a chore than an experience when visiting. From one line to another, we shuffled like cattle to the top of the building, fatigued, starving, and only wanting to get back down and get a bite to eat. However, the architecture for its time was truly revolutionary, and the sights are beyond breathtaking.
If you want to take a tour of the Empire State Building, book your ticket in advance to avoid waiting lines and wasting time. If you want to skip the lines and get a quality meal at the State Grill and Bar, I recommend purchasing the VIP Express Pass if you can afford it. It will save you from leaving this magnificent structure with a grumbling stomach and grumpy attitude.
Hopping Our Way through the Rest of New York
Falling into the cliched "tourist trap," we were stopped by a kind woman who offered a tour service that would allow us to see the expanse of New York. We told her of our limited schedule, and she redirected us to the Hop-on, Hop-off New York Bus Tour.
While many natives deem such a tour as a watered down experience of New York, it is a godsent when you have a limited schedule. We were able to travel to some of the main sights that make New York such a mecca for tourism, such as Chinatown, Washington Square Park, SoHo, Time Square, and more.
Though our New York experience was filled with frustration and frenzy, there was an inexplicable satisfaction when we arrived back in Montreal by sunrise. While our New York experience was less than two stars, we could not deny the laughs we had in between each mishap. We shared moments together that are wholly unique and will leave lasting impressions upon us for the rest of our lives.
This trip reminded us that despite every trial and tribulation we face, friends and family provide the love and support that give us the strength to bear life's burdens with courage and grace. It is not what we have or what we are doing that matters–it is who we are with. And for that, I can't thank New York City enough.